In the mid-1990s I attended a performance of Salome at the Met starring one of the world's most celebrated dramatic sopranos of the time in the title role. The entire production was deeply problematic on both a theatrical and musical level, but the central issue was the thorough inadequacy of the leading lady's vocal performance, which was unsteady and tonally unalluring throughout the evening. (Her physical portrayal wasn't much better, consisting of a lot of imperious gestures and arm flailing, all while wearing what looked like a young girl's mid-1950s pink party dress. One critic wrote that she looked like a Hostess Snowball.) Now, Salome sings a lot in Salome, and she has the last twenty minutes nearly to herself; they were long and painful minutes this particular evening. So imagine my surprise when the Met audience burst into a long and sustained ovation at the end of the performance, with many curtain calls for the evening's diva.
I was dumbfounded at the reaction, and as my then-boyfriend Jim and I shambled toward the exit and the promise of a badly needed drink, I managed only to shake my head and mumble, "But why?"
"That's easy," replied Jim. "They think that's what a dramatic soprano is supposed to sound like. She screams at them, so they scream back." And I realized he was right, that thirty years or so of increasingly wobbly and harsh voices in the great Wagner and Strauss roles had trained audiences' ears to accept aural assault as the normal course of things. 
As Exhibit A of "What a dramatic soprano is supposed to sound like," let me offer the new reissue on 16 CDs of the complete Columbia Recordings of Eileen Farrell, recorded between 1946 and 1963. These recordings, though not containing her first nor her last studio efforts, certainly document the central prime of her career, around the same time as her unfortunately brief Met stint. And they reveal the depth of her accomplishment across an extremely wide repertoire.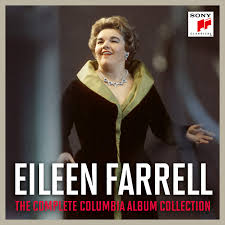 You see, Eileen Farrell could more or less sing anything. In the days before the ascendency of rock as the dominant form of music, she commanded the ability to encompass not only dramatic operatic music, but a lot of purely lyric material as well, added to a singular mastery of American popular standards, the lingua franca of commercial music from the 30s to the early 1960s. And she sang all of it with not only stylistic command, but with a tonal steadiness and beauty that one rarely hears in current operatic performances. The voice, though of Wagnerian size, blended warmth and clarity in ideal proportions, and she could sing with the kind of dynamic gradation that facilitated her wide stylistic range.
Farrell started in radio in the early 1940's, and for six years she had her own radio show on CBS, on which she established her pattern of moving freely between classical and pop repertoire. The next decade saw her expanding her career in the classical world, recording the Wesendonck Lieder of Wagner with Leopold Stokowski as well as a classic EMI album of opera arias conducted by Thomas Schippers (both now reissued on the Testament label). She recorded a few 78s for Columbia in 1946, but her real association with the label began 1951, when she recorded the role of Marie in Berg's Wozzeck under the baton of Dimitri Mitropoulos. An album of highlights from Cherubini's Medea followed in 1958, a release that began five years of regular work for Columbia. The Berg and Cherubini discs are still eminently listenable. If there have been more musically accurate performances of Wozzeck in the decades since, this one is still searingly dramatic and beautifully sung. As Medea, Farrell has to contend with comparison to Callas' electric interpretation, but the singing has a grandeur and visceral vocal thrill that are utterly different from the virtues of Callas. 
The next two discs in the Columbia collection are nearly total successes, one expected, one rather surprising. Arias in the Grand Tradition begins with the two great Beethoven dramatic scenas, "Ah, perfido!" and the Fidelio aria of Leonore. Both are sung with ample power that never turns harsh, and with the agility that they require. In both, Farrell demonstrates the warm evenness of her entire vocal compass, going in and out of a chest voice without ever calling obvious attention to shifts of register. The disc continues with Agathe's arias from Der Freischütz, sung with a warm lyricism rare at the time and unheard of now. The following year, Columbia released an album of Puccini arias which is one of the most unexpected successes in the collection. The prospect of hearing this big voice take on Mimi's arias, not to mention "O mio babbino caro," surely inspired skepticism at the time, but the disc itself is consistently a pleasure. She does not overwhelm the more lyrical arias, nor does she "sing down" to them by draining her voice of color or vibrancy as some bigger voiced singers have done. She delivers Mimi and Lauretta, Musetta and Manon with great style and a sense of proportion that never seems like holding back. The Tosca selections make one long for a complete recording of that role, and her Cio-Cio-San is nearly as successful. In fact, the only slight disappointment on the recording is her rendition of the dramatic soprano aria of Turandot, "In questa reggia," where her reluctance to luxuriate in the highest notes, as Nilsson used to, gives the aria a tentative, skittish quality. She's actually much better in Liù's "Tu che di gel sei cinta," sung with implacable dignity and luxurious vocal texture. 
The same month that she recorded the Puccini arias (September 1958) Farrell began work on a completely different project, her first album of pop standards, with Luther Henderson conducting. I've Got a Right to Sing the Blues!  became a hit for Farrell and Columbia, and inspired three more albums of similar material over the next four years. Of the four pop albums, my personal favorite is Together With Love, in which Farrell is accompanied by André Previn both on the podium and at the piano. Though very much of its time in terms of style, the arrangements on this particular disc seem less dated than those on the other three standards albums, and the prevalence of less familiar songs gives the recording a more personal touch. Farrell is marvelous throughout, perfectly catching the pathos of Gershwin's "But Not for Me," the lazy rapture of Harold Arlen's "A Sleepin' Bee," and the wide-eyed wonder of Vernon Duke's "Cabin in the Sky." She pitches her voice about a fifth lower than in her operatic work, and employs an ample but healthy belt in the upper reaches of the songs, sounding at times like Judy Garland in her vocal approach. This is no opera singer slumming through Tin Pan Alley, this is artistry as great in its own way as her classical work.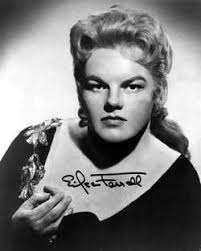 Two Verdi albums are included in the set, an album of arias and a disc of duets with Richard Tucker, both among the most thrilling operatic excerpt recordings ever issued, and all the more precious considering that Farrell never recorded a complete Verdi role. In the duet album, Tucker, in fine voice, is his usual emphatic self, and his presence seems to inspire in Farrell a more overtly histrionic delivery than usual. (Competitive singing will do that!) The duet from Un ballo in maschera, in particular, is given one its most ardent readings on disc. The aria album features a brilliant "Pace, pace, mio Dio!" from La forza del destino, the one Verdi opera that Farrell sang at the Met, along with half a dozen other arias, all of them sung at a level that can no longer be found on any international opera house stage. Throughout, Farrell characterizes the heroines with real individuality. Her Desdemona (Otello) follows her Amelia from Un ballo in Maschera, and we immediately hear the change from the latter's passionate suffering to the sound of youth and innocence. 
The Wagner recordings with Bernstein reinforce the sense of what might have been, since Farrell never stepped foot onstage in a Wagner role. By the time she recorded this Immolation Scene from Götterdämmerung and Wesendonck Lieder, Farrell had already performed and recorded this music with Stokowski, Munch and De Sabata, but I find that her renditions with Bernstein have a greater sense of musical security and textual identification, while yielding little or nothing in vocal freshness to the earlier records. The voice is lovely and secure throughout Wagner's wide-ranging music. If any single recording from this reissue could be called the set's crowning glory, the Wagner disc must be it. 
There are yet more treasures in the Sony Farrell box: two song recitals ably accompanied by George Trovillo, excerpts from Eugene Ormandy's 1959 Messiah recording, Bernstein's Beethoven Missa Solemnis with the NY Philharmonic, and a wonderful live Vaughan-Williams Serenade to Music from the opening of what was then called Philharmonic Hall at Lincoln Center. The booklet features lots of photos, a mildly interesting essay by Jürgen Kesting, full documentation, recording and original issue dates. Alas, no sung texts or translations (remember those?) are included. 
If, after listening through this marvelous set, one is left with a slightly melancholy feeling of frustration that her Met career didn't last longer, or that she never sang Isolde, one must remember that Eileen Farrell prized her versatility and independence to a greater degree than any other opera singer of her time. Indeed, she hardly conceived of herself as an opera singer at all, just a singer. One gets the feeling from reading her autobiography, Can't Help Singing, that she had few regrets about career milestones that never materialized, and that she was content with the achievements that were hers. Listening to these recordings of her voice in its prime, we naturally turn our minds to the Aidas and Ring cycles that she could have sung, but I doubt that she ever gave them a thought. 
The albums that make up The Complete Columbia Album Collection are available on Spotify. CDs available at Amazon.com